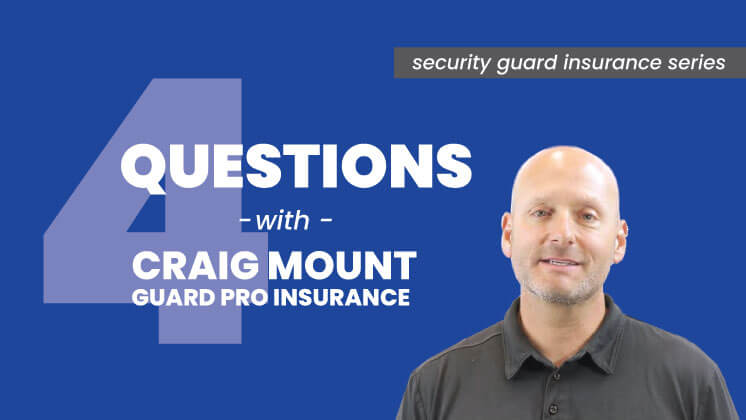 How has GuardPro established itself as the preferred insurance broker for the guard industry?
Over 25 years ago, I had the opportunity to meet and provide an insurance solution for a large security guard firm located in Los Angeles. During my conversation with the guard company owner, I realized the industry was not being serviced by an insurance agent that specializes in the guard industry.
My first security guard client was so happy with the coverage, premium and service, that he referred me to a couple of other guard companies in southern California.
Once we realized the potential to help the guard industry, we quickly created partnerships with the MGA's that control the insurance programs specifically designed to protect security companies.
25 years later, we have established ourselves as the industry leaders in providing insurance solutions for the security industry. We are the insurance brokers for some of the largest privately held guard security companies in the US. We are licensed in all 50 states and are able to provide every type of insurance coverage to protect our insured company, employees and clients.

How are you helping your clients in today's insurance climate?
For over the last decade, the insurance market has been "soft". Meaning rates were low, coverage was broad, and underwriting guidelines weren't very strict. This has changed in the last 6 months due to inflation and large claim losses.
We take an active role in helping our clients keep claim losses to a minimum, by assigning our Risk Management team to oversee all claims. This decreases the amount of time a claim is open, and helps keep the financial loss of the claim low.
The overall goal of partnering with our clients is to keep them in the upper tier of the guard industry in the eyes of the insurance carrier. Insurance carriers compete for quality guard business, we make sure insurance carriers are the most competitive to write our client's coverage.



What changes in insurance do you see happening for the guard industry?
Insurance carrier's underwriting guidelines are becoming more strict. This is due to large losses from events like the Las Vegas shooting and AstroWorld. Insurance carriers are limiting their exposure to losses by no longer writing event work and/or crowd control work. They are also drastically reducing the limit they are willing to go on GL and umbrella policies. Today, most carriers will only go as high as $10,000,000 limit and that comes with a hefty premium.
The auto market for the guard industry is also very limited. Most carriers have stopped providing auto coverage for the industry and the carriers that are left, are offering to write it at a large premium.

In your opinion, what can guard companies do today to help reduce insurance costs?
My #1 piece of advice is to partner with an experienced insurance professional that specializes in the guard industry. Soft market allows for a lot of brokers to enter industries they shouldn't be insuring. Moving to a hard market means things will get much tougher, carriers will exit the space, coverage will be limited. Less carriers, means less options and/or competition to compete on your coverage, so you will pay more for insurance and could end up getting less coverage. Partnering with the right broker is key in tough markets.